Last year I scored a copy of this lovely vintage pattern on Ebay in a size 16: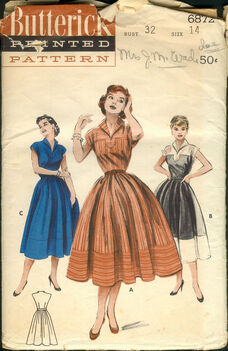 It is Butterick 6872; ca. early to mid 1950s; One Piece Dress: Shoulder Spanning Yoke. Gay and casual - interesting details: shoulder-spanning yoke that ends in a simulated tab, deep hem band. Collar and yoke cut-in-one. (A) Yoke and hem band cut crosswise for stripes. (B) Contrast yoke and band. (C) One fabric.
I just adore the striped version. It is a more interesting version of this dress from Land's End:
I will be making it as part of the
Pattern Review
Vintage Pattern Contest. I have until June 30th to complete it. I think it will be easier than last year's
vintage pajama
project as I will not have to deal with modifying a pants pattern. The pattern tissue is also printed, which is much easier than those confusing dots. I will have to grade the bodice up to my proper size. I've got the bodice pieces all traced out.
I will be using this linen blend fabric from
Gorgeous Fabrics
It will be beautiful, no? I may have to invest in a crinoline to wear with it. We'll see.